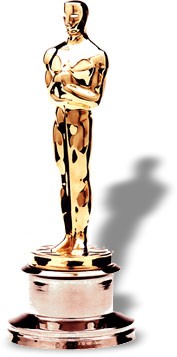 Because we all spend time reviewing movies, I thought I'd devote a post to the Oscar winners.
The Coen brothers completed their journey from the fringes to Hollywood's mainstream on Sunday, their crime saga "No Country for Old Men" winning four Academy Awards, including best picture, in a ceremony that also featured a strong international flavor.
Javier Bardem won for supporting actor in "No Country," which earned Joel and Ethan Coen best director, best adapted screenplay and the best-picture honor as producers.
Accepting the directing honor alongside his brother, Joel Coen recalled how they got their start in a career that has seen them advance from oddballs with a devoted cult following to broader audiences. He noted they have been making films since childhood, including one at the Minneapolis airport called "Henry Kissinger: Man on the Go."
"What we do now doesn't feel that much different from what we were doing then," Joel Coen said. "We're very thankful to all of you out there for continuing to let us play in our corner of the sandbox."
Daniel Day-Lewis won his second best-actor Oscar for the oil-boom epic "There Will Be Blood," while "La Vie En Rose" star Marion Cotillard was a surprise winner for best actress, riding the spirit of Edith Piaf to Oscar triumph over Julie Christie, who had been expected to win for "Away From Her."
All four acting prizes went to Europeans: Frenchwoman Cotillard, Spaniard Bardem, and Brits Day-Lewis and Tilda Swinton, the supporting-actress winner for "Michael Clayton."
The only other time in the Oscars' 80-year history that all four acting winners were foreign born was 1964, when the recipients were Rex Harrison, Julie Andrews, Peter Ustinov and Lila Kedrova.
Cross-Posted on
The World...IMHO
story here